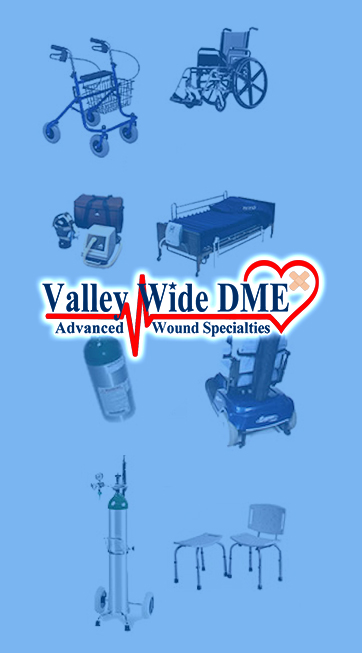 Valley Wide DME Advanced Wound Specialties
Working with many medical institutions for almost twenty years (hospitals, nursing homes, nurses …), we wanted to put our experience in the sale and rental of medical equipment in the service of health professionals to help to equip the best of medical furniture and accessories.
Valley Wide DME Advanced Wound offers equipment and medical supplies of high quality at affordable prices. We have developed a great interest in the pre-hospital emergency medical care. We climb further reforms which will enable us to grow our business while benefiting everyone in emergency medical care. We are determined to continue and grow across United States partner with everyone in the medical industry and with organizations that share our passion for improving health care. With determination to be the first in our market, we maintain and support a wide range of products and services to you, the customer. To achieve our goal, we will establish and maintain a strong partnership with our clients that we are committed to 100%.
Choosing the right medical equipment:
So our section Medical Equipment has a wide range dedicated to medical equipment and diagnostic equipment, to enable medical professionals to equip at best. Health professionals will find in this category all the necessary medical furniture for their office equipment: medical cart, examination couch, gynecological table, light box for medical imaging, balance, vital card reader, stethoscope, blood pressure …They will also find at their disposal all the medical equipment used during home visits ( doctors case, ThermoFlash, tourniquets ).
Support and advice:
All Valley Wide DME Advanced Wound customers can benefit from coaching. Professional support allows you to personally contact a counselor who will be on hand to answer your questions and discuss your ideas. The support service is offered in preparing your business plan, or if you are considering an expansion or redevelopment clinic.
The coaching is designed to ensure your growth and success of your organization. Here are some topics that you can discuss with your advisor:
• The benefits of each of your clinical devices
• Success in business
• New Technologies
• Acquisition priorities of your organization
• Assessing the benefits of a lease financing
Consulting Services:
The world of healthcare is changing at an unprecedented pace. New medical devices and technologies are increasing and becoming more complex. All Valley Wide DME Advanced Wound has developed a wide range of value-added consulting services designed to meet the expectations of various stakeholders in your business that is accountable. With our focused expertise in the fields of applied training, technical support, preparation of specifications, calibration of instruments and funding, we are able to provide unique services!